Wolf Cut Hair Male: The Boldest Trend You Need to Try Now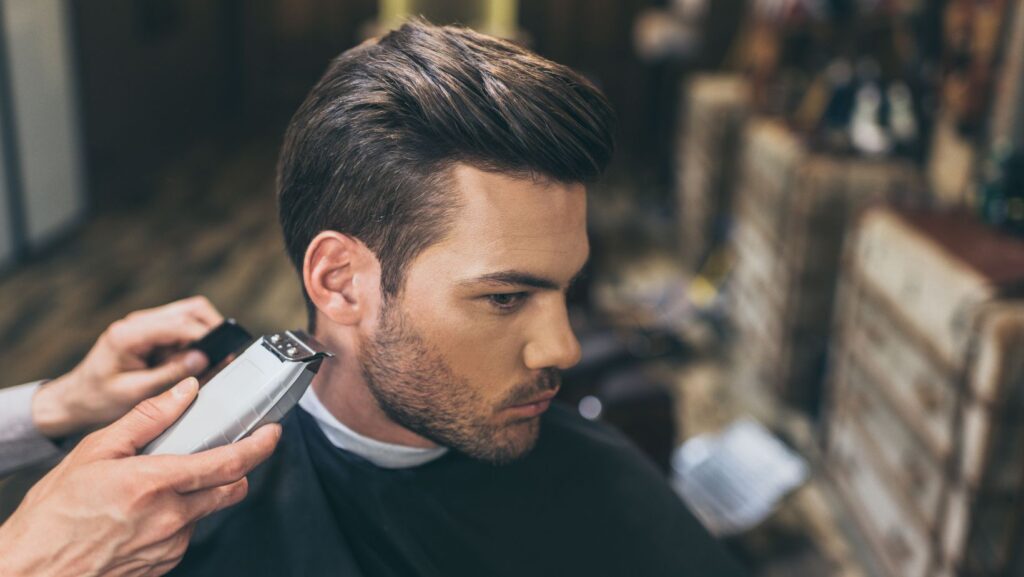 Wolf Cut Hair Male
Are you a guy looking to try out a new trendy hairstyle? If so, the wolf cut hair for males might be just what you're looking for. The wolf cut has gained popularity in recent years and is characterized by its tousled, shaggy appearance that exudes a cool and edgy vibe.
The wolf cut hair style features short layers on top with longer strands cascading down the sides and back. This creates a textured look that adds volume and movement to your hair. It's a versatile style that can be tailored to suit different hair types and lengths, making it suitable for guys with straight, wavy, or curly hair.
One of the great things about the wolf cut is its ability to add dimension to your overall look. Whether you opt for a messy bedhead style or a more polished version, this haircut allows you to experiment with different styling techniques. From using texturizing sprays or pomades for a disheveled finish to applying styling products for sleek definition, there are plenty of ways to make the wolf cut uniquely yours.
So if you're ready to embrace a bold and modern hairstyle, consider giving the wolf cut hair for males a try. With its effortless yet stylish appeal, it's no wonder why this trend has become increasingly popular among men who want to stand out from the crowd while maintaining an air of casual confidence.
What Is The Wolf Cut Hair Trend?
The Wolf Cut Hair trend has taken the male hair styling world by storm. It's a modern and edgy hairstyle that combines elements of shaggy layers, tousled texture, and lengthier sides. This trendy haircut has gained popularity among men who want to achieve a bold and fashion-forward look.
Versatility And Expression
One of the key reasons behind the rising popularity of the Wolf Cut Hair trend is its versatility. This style allows for endless customization, making it suitable for various hair lengths, textures, and face shapes. Whether you have straight or curly locks, short or long hair, the Wolf Cut Hair can be tailored to suit your individual preferences.
Embracing Natural Texture
The Wolf Cut Hair embraces natural texture and brings out the best in your mane. By adding layers throughout the hair, this style enhances volume while maintaining a relaxed appearance. The result is effortlessly cool hair that exudes confidence and individuality.
Celebrities As Influencers
As with many trends in hair styling, celebrities play a significant role in popularizing the Wolf Cut Hair trend among males. A number of well-known personalities have been spotted sporting this eye-catching hairstyle on red carpets and social media platforms alike. Their influence extends beyond just their looks; they demonstrate how this versatile cut can be adapted to complement different personal styles.
Maintenance Tips
To keep your Wolf Cut Hair looking sharp and stylish, regular maintenance is essential. Here are some tips:
Regular trims: Visit your hairstylist every 4-6 weeks to maintain the shape and prevent split ends.

Styling products: Use texturizing sprays or waxes to enhance definition and add volume to your locks.

Air drying: Embrace your natural texture by allowing your hair to air dry rather than relying heavily on heat styling tools.
The Wolf Cut Hair trend offers an exciting opportunity for men to experiment with their hair and showcase their unique style. Whether you're looking for a bold change or simply want to refresh your current look, this trendy hairstyle is worth considering. Embrace your inner wolf and rock the Wolf Cut Hair with confidence!
The Origins Of The Wolf Cut
The Wolf Cut hairstyle has gained significant popularity among males in recent years. Its unique and edgy aesthetic has made it a go-to choice for those seeking a bold and trendy look. But where did this hairstyle originate? Let's delve into the fascinating history behind the Wolf Cut.
Influences from K-Pop and Korean Fashion:

The origins of the Wolf Cut can be traced back to South Korea, specifically within the K-Pop industry and Korean fashion trends.

In K-Pop music videos and performances, male idols often sported hairstyles that combined elements of both long and short hair, creating a visually striking contrast.